Extend Weather Eagle® Audio Throughout Your Network!
At the request of our emergency management clients, we have developed an easy way to deliver the audio from NOAA weather radio (or any other analog audio) throughout your LAN/WAN network. Using the rear RCA audio connector, you can source the 'unmuted' audio from the Weather Eagle®105 or 110.

An analog-to-digital voice-encoding module is used to transition the analog audio into digital packets that travel across LAN/WAN networks. The module sends the digitized audio to a software program running on a server. We have worked closely with the manufacturer to make the set-up simple. Detailed setup instructions are available in the Thunder Eagle Customer Information area.

After trying numerous other systems, we chose this module because it does not require a Windows computer at the encoder site, which would involve the usual periodic 'maintenance' of rebooting. The module encodes the audio and sends it directly to the server for maximum reliability with the lowest downtime.

Multiple users can simultaneously connect to the server software using WinAmp. The number of users is limited only by available bandwidth.

Thunder Eagle will be releasing a smart client in the third quareter of 2007 to enhance the full VOIP alerting experience.


Try it out - NOW! **
Try out streaming audio from KHB-36 NOAA Weather Radio Manassas, VA!


The audio for this test originates from the National Weather Service Baltimore/Washington Forecast Office near Dulles Airport in Virginia. It is being transmitted from Manassas, VA (about 40 miles from the NWS), is being received by a Weather Eagle®110 in Vienna, VA (about 35 miles from the transmitter) and is being encoded and sent to a server near Dallas, TX (about 1500 miles away), which you are accessing (somewhere!). In short, the Internet makes distance almost irrelevant!

Click here to hear the live audio stream of KHB36 - Manassas,VA


WE110 Receiver -
AE120 SAME-EAS Decoder


WE105 Receiver -
AE400 SAME-EAS Decoder
Translates Alerts to Text


MRI-100 MultiRadio Interface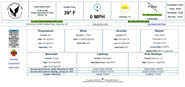 FipsServer Custom Weather Website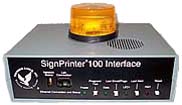 SP100 SignPrinter Interface


One Line LED Signboard