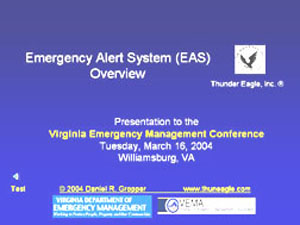 The EAS (Emergency Alert System) and the SAME (NWS' Specific Area Message Encoding) systems are complex. More specifically, the interaction of the EAS and SAME systems are very complex.
We presented a tutorial at the Virginia Emergency Management Association tech day on March 16, 2004 on this topic to professional emergency managers.
There are two audio files with samples of an EAS test and an AMBER missing child alert in the Power Point presenation. The audio files are accessed by clicking on the speaker icon. There is one in the lower left corner on the first page and the other is on the Amber Alert page. Once the slide show begins, you can go to the next page by clicking in a page and can end the show by pressing escape.
Download notes:
The file is large (about 4 Meg) and requires you to have PowerPoint on your workstation. You may be asked to download the file and save it on your workstation and then to open the file. On other systems, the file will download and open automatically. If you are having problems opening the presentation, try to right click and choose the 'save the file' option and then open the file from the saved location. Some browsers do not show a progress bar or an hour glass during the download. Please be patient.
Click HERE to access the presentation (4.4MB PowerPoint file).