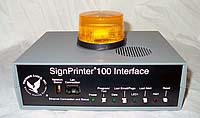 When the National Weather Service sends out emergency alerts, the Alert Eagle®400 (AE400) automatically decodes the messages, matches and translates them and sends them to the FipsSender™ for immediate transmission to signboards, emails, wire text, printers, buzzers and strobe lights.

The AE400 transmits the messages through your LAN/WAN network and the FipsSender™ software to the SignPrinter® Interface (SP100), which outputs the data to LED signboards and printers. Click HERE for a system overview.


How the SP100 works


Upon receipt of a message, the SP100 beeps 20 times, flashes a strobe light and closes a relay, which turns on the system.
An LED indicates whether the unit has power.
The SP100 will send a message back to the FipsSender™ software indicating whether the LED signboard acknowledged the alert.
The SP100 saves the most recent alert in nonvolatile memory at the remote location for diagnostic purposes.
Pressing the "Last Alert" button allow you to play back the most recent alert to the LED signboard and to the printer.
Pressing the Reset button resets the LED signboard to normal messages, turns off the strobe light and opens the relay, turning off the system.
Pressing the "Test" button closes the relay, turns on the strobe light, starts the alert beep sequence, sends a test message to the LED signboard and printer and flashes the alert LED.
Each SP100 requires a unique, static IP address.
The strobe can be set by the user, in software, to turn off between 1 second and 18 hrs after an alert.

Information on the configuration of the web server is located in the customer Login area of this web site.











WE110 Receiver -
AE120 SAME-EAS Decoder


WE105 Receiver -
AE400 SAME-EAS Decoder
Translates Alerts to Text


MRI-100 MultiRadio Interface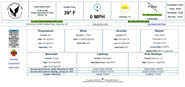 FipsServer Custom Weather Website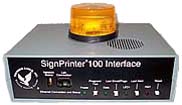 SP100 SignPrinter Interface


One Line LED Signboard