The most recent edition of the Air Messenger Serial software can be obtained from http://www.internetsoftwaresolutions.biz/products/amserial/index.html An activation password can be purchased from Thunder Eagle,Inc. or directly from Internet Software Solutions.
Air Messenger ASCII Software is available at http://www.internetsoftwaresolutions.biz/products/amascii/indext.html
The key settings are as follows:
1) Settings
2) Providers
3) Subscribers
4) Alarm Records
If you do not want to do email paging/text messaging, you first need to set up a provider. You can select a carrier's name and choose the service, such as ALL, TAP, SNPP, WCTP amd SMPP. Then,instead of e-paging, select the provider for each subscriber.
1) Under settings/ subscribers
Name: is name
PIN/e-address is the email address
Pin Provider is usually e-page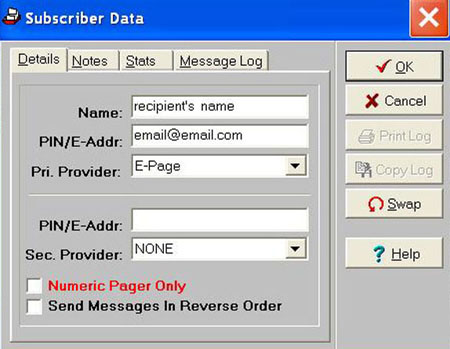 2) Under settings/preferences/epaging
Set up your SMTP server
(for example: smtp.east.cox.net)
Insert sender's email address.
Add subject line.
Click SMTP.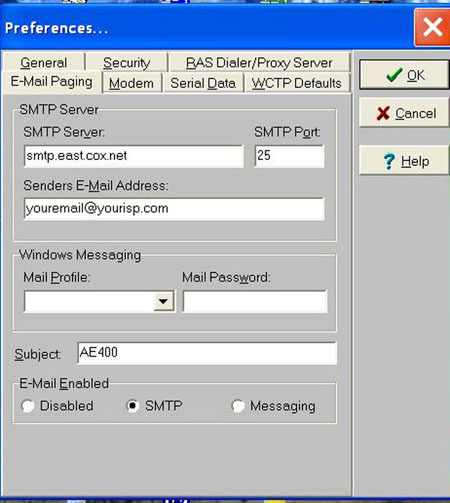 3) Under settings/preferences/serial data
Choose your comm port and 9600,8,N,1.
Alarm record separator is CR/LF.
Alarm code starts column = 0 (for the desired text being anywhere in the text message)
Check and insert record text from line 1 to 80.
On the next line, check and insert additional text from column 81 to 500.
(this is the length of the message to be sent).
*** Flow Control is NONE!!!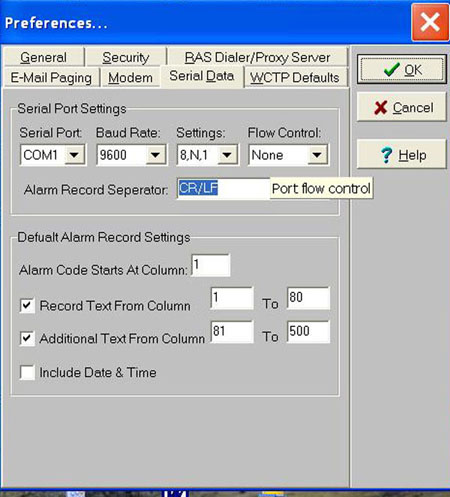 4) Under settings/preferences/general
Click enable Que checking, every 1 minute.
Click enable transaction logging and show splash screen, but unclick minimize on startup.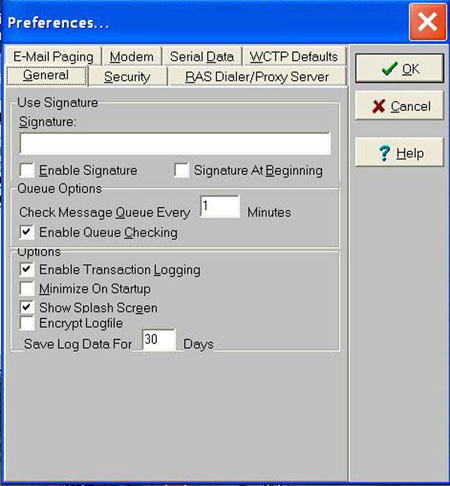 5) Under settings/alarm records
Add an alarm text string you seek to activate on..like a county name.
Alarm code is 0 for anywhere in text stream.
Click and record text from column 1 to 80.
On the next line click additional text from column 81 to 500.
Add additional alert groups as needed.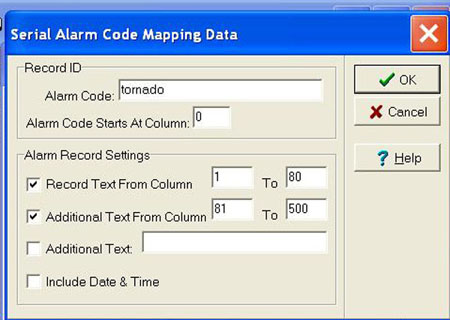 Close the add function dialog box and click on each alert group and add subscribers to each alert group as desired.
Click done.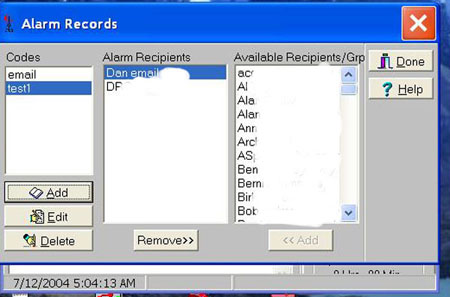 IT IS RECOMMENDED THAT YOU SEND A TEXT STREAM TO YOUR AIR MESSENGER SERIAL SOFTWARE USING HYPERTERMINAL, SENDING THE LINE FEED AND CARRIAGE RETURN, WITH THE DESIRED ALARM TEXT TO VERIFY THAT THE SYSTEM IS SETUP AND RUNNING!
Connect the PC to the Alert Eagle® or the SignPrinter® and hit the replay button, if an alert is in each unit,and make sure that the paging system activates.